Happy new year! As we wrapped up 2019 with a strong finish, we want to thank all customers, partners, and employees for making this possible. Let's look back at an amazing year.
1. Supporting Customers with Top Edge Computing Software
We put our customers first! It is no surprise that we kept our service levels high.
While numerous improvements were made to existing compute, storage, networking, and database features, our teams demonstrated their hard work, releasing new capabilities that were high in demand. Here's a glimpse.

New Marketplace
Building your own applications and distributing them to the world is now possible from our platform.
New Reseller Portal
Our clients are managing their multi-tenant edge and cloud services from a more robust and scalable portal.
New Services in Beta
Our customers have early access to upcoming features, such as Protection as a Service and Big Data.
New Security Features
Users can now create secure secret containers to keep passwords, certificates, and access tokens.
2. Building Essential Partnerships and Consolidating Our Strengths
Ormuco Received 4$M in Government Funding for AI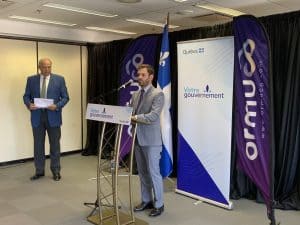 Our commitment to building an AI-powered log analytics and virtual sysadmin platform was rewarded! The Quebec government granted us with funding to hire skilled talent and develop better machine learning expertise.
Ormuco Was Approved for the Encqor 5G Program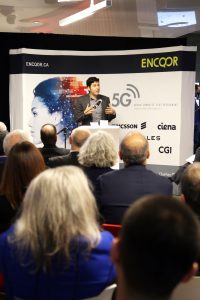 5G is at the center of all discussions! It's also at the core of our innovation strategy to deliver faster real-time processing. Getting our project approved by the first local 5G testbed program was a major milestone.
Ormuco Joined the AIoT Canada Board
In AI we trust! What better way to prove it than to join the growing cluster of national actors in that field? We are proud to have been elected a member of the board to help promote Canadian know-how globally.
3. Enriching Our Portfolio with Industry-Transforming Use Cases
Thanks to the dedication of our R&D department, we were able to explore new avenues for digital transformation and business success.
TV Broadcasting
Ormuco successfully delivered an innovative multimedia platform to be tested by broadcasters worldwide, in collaboration with our New York-based partner.
Virtual Reality
Ormuco built a VR lab to help customers get a grasp of edge computing benefits (literally). We exported the lab to Finland during our European partner's annual expo.
Containers as a Service
Working on a complex project with a university in Ontario, we enhanced our Kubernetes-based features, kicking off the beta deployment of our CaaS global offering.
4. Always Expanding to New Markets
Always expanding to new markets, Ormuco started a strategic alliance in Mexico, reinforced its position in the Middle East, and secured a multi-year deal in Brazil.
Are you ready for a journey to success? We are! Kickstart your new year with the best edge computing platform.