With the rise of interest in bitcoin, blockchain has been in the forefront of the mind of many luminaries in the world of IoT (the Internet of Things).
But, because the topic is not common, many are still unaware of what blockchain is, how it works, and how it's linked to IoT or bitcoin.
So, let's take a look at the basics of these technologies, and discuss both the challenges and opportunities of the integration of IoT and blockchain.
Let's Start with Bitcoin!
Bitcoin is a digital currency or cryptocurrency. It was created as a peer-to-peer system for online transactions. Bitcoin differs from traditional currency models because it relies on a global, distributed network of computers to validate the transactions, rather than a centralized authority.
In December 2017, the price of one bitcoin (BTC) reached a record high value of US$19,783.06
How is blockchain related to bitcoin? Blockchain is used to verify the cryptocurrency transactions.
What Is Blockchain – And How Does It Function?
Webopedia defines blockchain as "a type of data structure that enables identifying and tracking transactions digitally and sharing this information across a distributed network of computers".
Simply put, a blockchain is a secure, distributed database. So, it is decentralized by design. It runs on multiple, independent systems at the same time – rather than a single, centralized server that is controlled by one company or organization.
The word blockchain conveys the idea of a real-time list of records (called "blocks") replicated to several, "chained" computers and secured using advanced cryptography.
The primary advantage of the technology is that it's both encrypted and public. It is nearly impossible to tamper with it in any way, due to its design. Any data or record in a given "block" of data cannot be changed retroactively, unless all other blocks that come afterward are altered, which requires a "network majority" approval from all systems. This makes bitcoin transactions irreversible, for instance.
The decentralized nature of blockchain is why it's become such a hot topic among IoT professionals, who are seeking to create secure devices and technologies that rely on edge computing, rather than centralized cloud computing.
What Is IoT?
You've certainly heard the term IoT, which is short for "Internet of Things". And IoT is exactly what it sounds like – a method to integrate any network-enabled devices into the global internet network.
The goal of IoT is to allow devices other than common computers to automatically transmit data to a centralized network, for processing and analysis.
Smart heart monitors for hospital patients, moisture sensors on farmland, IoT thermometers to ensure refrigerated trucks are properly cooled, surveillance cameras, wearables such as smart watches,  or intelligent home appliances – all of these connected "things" are part of the Internet of Things.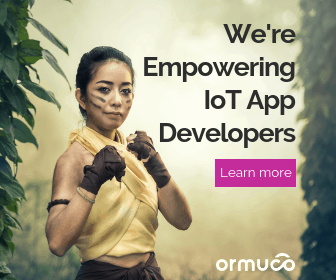 The Challenges Facing IoT – And How Blockchain Can Help
According to Forbes, 29% of companies are using IoT. While it's been adopted by many companies, there are still some big challenges facing IoT's widespread adoption. Blockchain could hold the key to solving these problems, such as:
Cost – The cost of processing large volumes of data in a centralized location will only increase as more IoT devices are added, and this may increase latency and decrease business agility. Blockchain could help with this issue. Edge devices could use excess computing capacity to process data, and store it on local blockchains for future analysis, speeding up computational processes, and ensuring the integrity of the data.
Security – The world of IoT provides new and interesting security challenges for tech companies, and could expose data to malicious third parties. Again, blockchain could be helpful here. By securing IoT data using a blockchain-based model, all sensors and processing units could be secured, according to algorithm-based security architecture. Not only that, the integrity of the data can be guaranteed – blockchain will make it impossible for data to be tampered with, due to the fundamental immutability of its architecture.
Centralized architecture – Blockchain is meant to be inherently scalable, both horizontally and vertically, making it a great alternative to traditional centralized architecture, which is a key point of vulnerability.
The Rise of Decentralization in Computing
With more innovations that are just around the corner and widespread adoption of IoT, decentralized computing is rising in popularity – even without blockchain.
Decentralization or distributed computing allows companies to spread their computing power throughout their IT infrastructure, and enhance the responsiveness and reliability of their services.
For example, critical activities in an off-shore drilling station can only be successfully automated with drill-monitor sensors communicating with a local, edge-based server – rather than a central server that's located farther away on the continent. This increases the reliability of the systems, especially in case of emergency situations.
This is what is driving innovation in distributed computing – and making many people rethink the traditional network architecture of using only a few centralized platforms for the majority of data processing.
How to Prepare for Decentralization with Ormuco
Edge computing is essential for IoT and blockchain. In order to prepare for the next wave of IoT products and innovations, companies around the world must be ready to incorporate decentralization into their IT strategy.
If you want to learn more about it or if you're planning to implement edge deployments, Ormuco is your best partner. Our Ormuco Edge solution combines the power of OpenStack and state-of-the-art open source technologies to deliver an edge platform ready for all your current and future projects. Using simple, commodity equipment, you can easily start creating your own edge computing networks. 
Watch our webcast on decentralization, or schedule a demo of our solution.