Whether you're a service provider or an enterprise, choosing the right partners is essential to your business's success. When it comes to selecting an edge provider, there is more to consider than just the features that are offered.
Here's how to select your edge provider:
Follow the right process
Evaluate the pricing and pricing model
Gauge the features
Assess the support structure
Weigh the provider's flexibility
Now, let's have a deeper look.
1. Understanding the Edge Provider Selection Process
The selection process for an edge provider may vary somewhat, based on your needs and the companies you're interested in working with. However, it usually consists of the following steps:
Discovery – The discovery phase is when you begin doing initial research, and comparing the features, pricing structures, and other basics of each individual edge service provider.
Evaluation – During the evaluation stage, you will work closely with your colleagues and stakeholders to ensure that you have a comprehensive understanding of the edge provider with whom you would like to partner.
Negotiation – During negotiation, details about the contract and SLA are outlined and often looked at by legal counsel, to ensure mutual benefit for both parties. Any concerns about the product are usually addressed during this step.
Agreement – Both companies agree to the terms set out in the SLA and their contract, and agree to the terms set forth therein.
Implementation – Cloud-to-edge migrations and other such tasks may be carried out, to begin the use of the  software. In most cases, the edge provider will offer aid and support during this step, to ensure a seamless transition.
2. Evaluate the Pricing and Pricing Model
This is one of the biggest considerations. Ideally, you can save quite a bit of money by switching from cloud to edge services – but this really depends on the prices of the company, as well as their pricing model. There are a few different pricing models and structures offered on the market. Here are the 3 most common pricing structures.
Consumption-based pricing (pay for what you use) – This type of model is usually used by IaaS companies and services, like Ormuco. You simply pay for what you use – such as CPU time, network traffic, and disk space. The more resources you use, the more you pay – and vice versa. This allows you to easily scale up and down depending on your business needs and budget.
Subscription-based pricing – Most Software as a Service (SaaS) companies use this model. You simply pay a certain amount of money – usually on a monthly basis – for your subscription. You can use unlimited resources, but you usually have to pay for one license per user.
Market-based pricing – This is a more rare type of consumption-based pricing, where your prices depend on the market. For example, you may pay more for CPU time during peak business hours – but less, should you choose to run resource-intensive programs in off-peak hours.
Consumption-based and subscription-based pricing are both good pricing models that are usually quite cost-effective. Run a cost comparison between potential edge providers whenever you're thinking about choosing a new company, to ensure you understand the pros and cons of each pricing model.
3. Gauge the Edge Features
The features that edge providers offer will vary dramatically, based on the precise nature of their business. However, there are a few features you should always expect, such as:
Automatic data backups
Scalability and self-service provisioning
Maintenance and patching from the vendor, removing the need for IT involvement
Regular software updates and security fixes
Again, when choosing a provider, you should compare all options and pick the one that offers the most diverse set of features for the best price.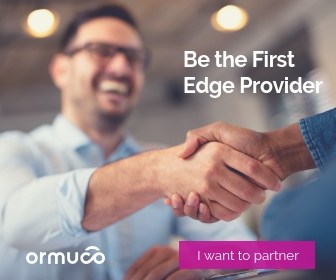 4. Assess the Support Structure
Great support is absolutely key for an edge provider. Because you do not have direct control over their hardware and operations, you need to work with a partner that has excellent, fast service and great customer support.
If something goes wrong with the software, you could end up losing a lot of money and productivity – so quick responses and fixes are absolutely essential. Make sure that expectations for response time are outlined in your SLA (Service Level Agreement) when choosing a new service provider.
5. Weigh the Provider's Flexibility – Avoiding "Vendor Lock-In"
The final thing you need to look for when choosing an edge provider is flexibility. Namely, the ability to avoid "vendor lock-in". You don't want to choose software that is completely proprietary, and cannot be used to migrate cloud workloads from different platforms, including on-premises servers, to the edge.
If you do end up with a vendor that provides 100% proprietary software, the cost of switching can be astronomical – and it may not even be possible, in some cases. Because of this, you should do your due diligence before partnering with a new company, and ensure that any vendor you work with has some kind of strategy in place to help customers migrate to a new edge company, if the need should ever arise.
Know What to Expect When Working with an Edge Provider!
Not all edge providers are the same. There are many companies that are simply hoping to cash in on the new popularity of edge computing. We believe this guide will help you avoid being tricked into the wrong partnership!
Will Ormuco be your next partner? Visit our partnership page now and start offering the #1 edge computing solution!