Virtualization is key in today's modern IT infrastructures. From "bare metal" virtualization, to VMs and containers, virtual workloads are at the core of many different IT departments. For IT managers, CIOS and other executives, it is more important than ever to invest in a virtualization software that's flexible, powerful, and scalable. Today, open source virtualization is becoming more commonplace as it offers a number of benefits.
In this article, we'll be taking a look at some of these.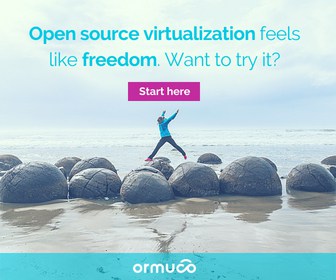 1. Open Source Virtualization Guarantees Lower Costs
Open source virtualization can lead to lower overall IT costs.
Server virtualization already decreases IT costs, by allowing more independent servers and virtual machines to be run on a single piece of hardware – whether cloud-based or on-premises. But that doesn't mean that it's always cheap.
In fact, some leading companies such as Oracle, Microsoft and VMWare charge steep fees to use their virtualization tools and cloud management platforms. And, in today's cost-conscious ecosystem, more IT managers are looking to cut unnecessary costs, like licensing fees.
Open source server virtualization, on the other hand, is free. Consequently, most third-party systems built using an open source technology come in a simplified business model, making them much more accessible than other systems provided by market leaders. This not only guarantees affordability, but also eases scalability because businesses can expand their IT services without fearing to see their budgets skyrocket.
2. Vendor Lock-In Is Over with Open Source Virtualization
Your data is your most valuable resource. And, to ensure that you maintain control of your data, it's important to avoid vendor lock-in.
Popular providers may require you to sign longer-term contracts that minimize your ability to easily move your data between different virtualization services. Obviously, this is great for them – because it helps boost their bottom line. But it's not as good for consumers. 78% of IT decision-makers have serious concerns about vendor lock-in.
Open source technology allows for easy portability and integration of data, along with compatibility with several third-party software. You have less chances of being locked in with a single vendor with open source.
3. Open Source Virtualization Offers Increased Flexibility & Ability to Experiment
 With an open source platform, you and your development team have full access to the entire platform and documentation about how it works. This makes it easier to:
Experiment with new integrations
Change and modify how the platform works
Add your own custom functionality
However, the same is not true of closed-source, proprietary virtualization platforms. Adding more features may require you to pay more – not just spend time developing them on your own.
4. Diverse Open Source Virtualization Platforms Simplifies Your Integrations
One of the most powerful benefits of open source virtualization platforms like OpenStack is that they will integrate most of other open source software platforms and technologies.
Proprietary virtualization providers like Microsoft, on the other hand, may not offer native API integrations and third-party functionality, because they want to lock you into their ecosystem, and force you to pay extra for these features.
Because of this, it's typically more difficult to integrate all of your IT systems into a single infrastructure.
5. Thousands of Open Source Developers Are Helping to Improve the Software & Features
Open source virtualization software like OpenStack is provided in an 'open access' model, so anyone can participate in developing and improving the software.
When thousands of developers all over the world use a product every day, they can identify bugs, glitches, errors, and more – and provide fixes and solutions for these problems.
These platforms are constantly updated and new versions cost nothing. Changes and improvements can be submitted any time.
6. Open Source Virtualization Eases Scalability
Licensing fees for cloud computing virtualization can be quite high. For every user you add, you must purchase additional licenses for software, pay more for hardware, and pay for additional server infrastructure.
This is not the case with an open source platform. Though you'll need to pay for more IT infrastructure when you expand your computing capabilities, you won't face high licensing fees and other costs that are common in proprietary software systems.
The OpenStack Platform – The Top Choice for Open Source Virtualization
We've already mentioned OpenStack a few times – because it's the very best open source virtualization platform out there. With thousands of developers and contributors, a no-cost business model, and an enormous variety of features, OpenStack is the single best open source virtualization platform.
However, the process of developing your own OpenStack installation is often quite difficult and time-consuming. While the platform is very powerful, it requires quite a bit of setup to use properly – which makes it less-than-ideal for companies with smaller IT and internal development teams. So, what's the solution?
Ormuco Stack – Customizable, Powerful Performance Out of the Box
Ormuco Stack has been built on top of the OpenStack software platform. It provides the most popular features, integrations, and functionality required from a modern virtualization platform – without requiring you to develop these features in-house. A few of the best features of the Ormuco Stack include:
Native multi-cloud compatibility
Built-in security features and multi-tenancy design
Simple VM importation features to help avoid vendor lock-in
Automatic scaling and load rebalancing
Big Data compatibility with Hadoop and NoSQL
Simple third-party integrations with REST APIs.
Ormuco Stack provides all of the benefits of open source virtualization with none of the drawbacks. You benefit from a powerful, affordable, and scalable platform that's based on OpenStack – but you don't have to invest man-hours and capital into the creation of your own feature sets and integrations. That's a win-win!
Learn More About Ormuco Stack Today!
You can trust Ormuco as the best cloud virtualization provider on the market. We provide affordable, cost-effective solutions that deliver a stellar ROI, particularly for Telcos, Service Providers and Enterprises.
To learn more and get started with Ormuco Stack, visit our product page now. You can also take a look at our pricing,  and contact us with any other questions you might have!